Safeguarding and Child Protection
Safeguarding at Violet Way Academy
Violet Way Academy is committed to the highest standards in protecting and safeguarding the children entrusted to our care. Our school will support all children by:
Promoting a caring, safe and positive environment within the school
Encouraging self-esteem and confidence
Effectively preventing and tackling bullying and harassment
We recognise that some children may be the victims of neglect, physical, sexual or emotional abuse. Staff working with children are well-placed to identify such abuse. In order to protect our children, we aim to:
Create an atmosphere where all our children can feel secure, valued and listened to
Recognise signs and symptoms of abuse and neglect
Respond quickly, appropriately and effectively to cases of suspected abuse
As part of our Safeguarding role, we teach all children how to keep themselves and others safe (at an age-appropriate level). Our PSHE Scheme of Work includes work on anti-bullying, personal safety, healthy lifestyle choices, conflict resolution, secrets, relationships, cyber-bullying, internet safety and healthy relationships. Children are also given clear information about how to report things they feel upset, worried or uncomfortable about.
We are committed to monitoring and listening to all our pupils to identify possible problems. Where there are serious concerns about a child's safety, we will share our concerns with the relevant authorities.
We work closely with other agencies such as the Police, Social Care and the Health Service to ensure all children are kept safe.
From time to time, many families may find themselves in difficulties. At Violet Way we pride ourselves on building strong, positive relationships with our families. If you are struggling or need help, we can offer support. We can also signpost to other agencies who may be able to offer help and support. Marie Dawson is our key contact in school. Please just call and ask to speak to her.
Designated Safeguarding Lead
A senior member of staff (a member of the leadership team) is nominated to have specific responsibility within the Academy for child protection matters, specifically:
Taking lead responsibility for dealing with child protection issues
Providing advice and support to other staff
Liaising with the local authority and working with other agencies
Providing support for individual children
The Designated Safeguarding Lead and Deputy Designated Safeguarding Leads are: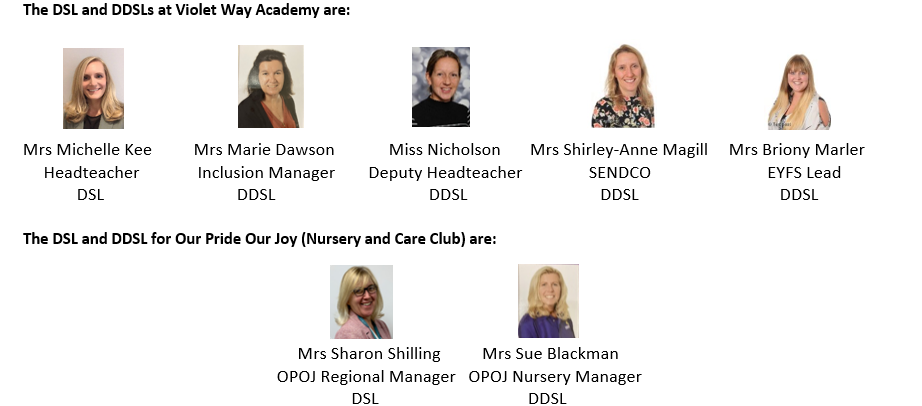 Staffordshire Children's Advice and Support Services
Do you think a child or young person is being harmed or is at risk of being harmed? Are you worried that a child is living in circumstances where they are treated badly and not cared for properly? If you've answered yes to any of these questions, please contact the Staffordshire Childrens Advice & Support Service immediately. Phone: 0300 111 8007 and select option 1 - Opening Times are Monday to Thursday 8:30 a.m. to 5:00 p.m. and Friday 8:30 a.m. to 4:30 p.m. Outside of these hours above, or on weekends and bank holidays, please contact the Emergency Duty Team by phoning 0345 604 2886.
The Academy recognises that staff are uniquely placed to have a positive role in child protection. As responsible adults outside pupils' homes, they are in a position to observe children on a daily basis and therefore to spot physical or emotional signs that might indicate they are being abused. Close interaction can also make staff vulnerable to allegations being made against them. Such allegations may be unfounded and be either deliberate or innocent of such intent. Regrettably, on occasions, staff do commit acts of abuse or ill-treatment. However, whatever the basis of an allegation, once made there can follow a period of great difficulty and stress for the young person concerned, the staff member and for those 'managing' the situation, including Headteachers, senior staff and governors. While such difficulties cannot always be avoided, the Academy is committed to mitigating the effects on all children, young people and adults concerned. To achieve this objective the Academy has systems to:
Prevent unsuitable people working with children and young people, through safe recruitment practices;
Promote safe practice and challenge poor and unsafe practice, through its ethos, policies, practice and training;
Identify instances in which there are grounds for concern and take appropriate action, using appropriate policies, procedures and systems;
Contribute to effective partnership working between all those involved in providing services for children and young people.